Wuhan Newport Central China Trade Service Area
——Integrated Service Accumulation Area For Interaction of Port and City On the Upper and Middle Reaches of the Yangtze River—— 
Wuhan Newport Central China Trade Service Area is located east of Pingjiang Road, west of Chaipo River, south of port united inspection building, faced to Yangluo port container terminal across the road, and adjacent to Wuhan New Port and Airport Yangluo Bonded Area and Wuhan Yangluo Multimodal Transport Customs Supervision Center in Wuhan Economic Development Zone of Yangluo. It embraces a total construction area of 250,000 square metre with total investment of 2 billion yuan and is expected to be completed in June 2018.
The construction contents include building eight platforms of supply chain financial platform, Cross-border E-commerce transaction platform, exchange platform, port service platform, bonded logistics platform, business incubator platform, exhibition terminal platform and commercial support platform as well as public service facilities of a five-star hotel (tourist transport center), wedding theme leisure square, intercity bus line and so on.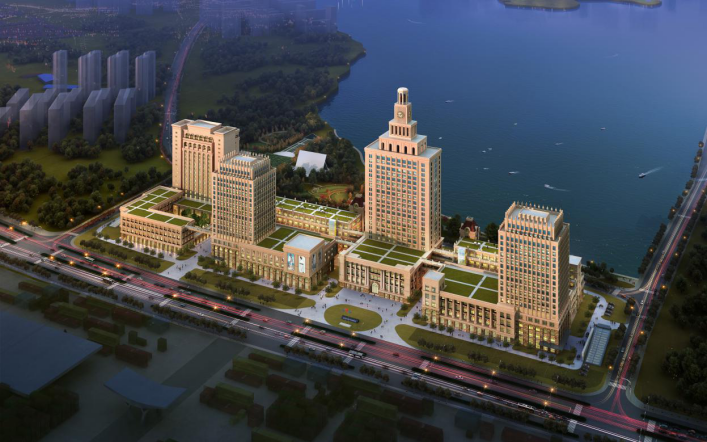 Provincial, municipal and district levels of government highly concerns and supports Wuhan Newport Central China Trade Service Area which has been incorporated in Hubei Yangtze River Economic Zone key construction projects by Hubei provincial Development and Reform Commission, brought into Wuhan City the 13th five-year transportation planning key projects by Wuhan Municipal Transportation Commission, put into Wuhan City logistics informatization key construction projects by Wuhan Municipal Logistics Bureau, listed in 2017 key projects by Wuhan municipal government.
After the completion of the project, Wuhan Newport Central China Trade Service Area will achieve functional complementation and interactive development with Wuhan Yangluo Bonded Area and multi-modal transport platform in order to form multi-level circulatory economy industry chain including port, trade, finance and logistics, expedite seamless connection and development between domestic trade and international trade, and become an important component of Shipping Center in the Middle Reaches of Yangtze River. Besides, Wuhan Newport Central China Trade Service Area will endeavour through 5-10 years to boost integration and interaction development between Yangluo port and Yangluo city to make Yangluo port become the fifth pole of Wuhan economic development under the national strategies of "the Belt and Road" and "Yangtse River Economy Belt".